Classifica software console UK: Call of Duty Infinite Warfare è il più venduto anche nel 2017
Ecco la top20 dei titoli più venduti nella prima settimana di gennaio 2017.
Anno nuovo vita vecchia, almeno in UK nel mercato console retail. Call of Duty: Infinite Warfare è ancora una volta il titolo più venduto nella prima settimana del nuovo anno, seguito dai soliti FIFA 17, GTA V e Battlefield 1. Nessuna new entry nella top20 di questa settimana tracciata da GFK Chart Track, che vi proponiamo di seguito, ma non sorprende vista la quasi totale assenza di nuove release.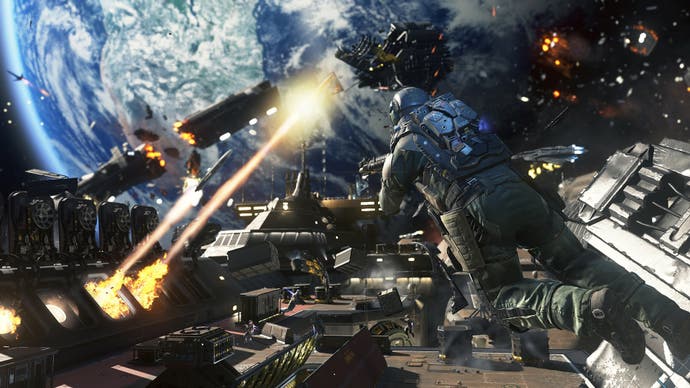 1 CALL OF DUTY: INFINITE WARFARE INFINITY WARD ACTIVISION ACTIVISION BLIZZARD
2 FIFA 17 EA CANADA EA SPORTS ELECTRONIC ARTS
3 GRAND THEFT AUTO V ROCKSTAR NORTH ROCKSTAR TAKE 2
4 BATTLEFIELD 1 DIGITAL ILLUSIONS EA GAMES ELECTRONIC ARTS
5 FORZA HORIZON 3 PLAYGROUND GAMES MICROSOFT MICROSOFT
6 WATCH DOGS 2 UBISOFT (MONTREAL) UBISOFT UBISOFT
7 MAFIA III HANGAR 13 2K TAKE 2
8 ROCKET LEAGUE PSYONIX 505 GAMES 505 GAMES
9 POKEMON SUN GAME FREAK NINTENDO NINTENDO
10 STEEP UBISOFT (FRANCE) UBISOFT UBISOFT
11 THE ELDER SCROLLS V: SKYRIM SPECIAL ED. BETHESDA BETHESDA SOFTWORKS
12 GEARS OF WAR 4 THE COALITION MICROSOFT MICROSOFT
13 LEGO STAR WARS: THE FORCE AWAKENS TRAVELLER'S TALES WARNER BROS. INTERACTI-VE
14 MINECRAFT: XBOX EDITION 4J STUDIOS MICROSOFT MICROSOFT
15 UNCHARTED 4: A THIEF'S END NAUGHTY DOG SONY COMPUTER ENT. SONY COMPUTER ENT.
16 POKEMON MOON GAME FREAK NINTENDO NINTENDO
17 WWE 2K17 YUKE'S/VISUAL CONCEPTS 2K TAKE 2
18 TOM CLANCY'S THE DIVISION MASSIVE ENTERTAINMENT UBISOFT UBISOFT
19 THE LAST GUARDIAN SONY COMPUTER ENT. SONY COMPUTER ENT. SONY COMPUTER ENT.
20 ASSASSIN'S CREED: THE EZIO COLLECTION UBISOFT (MONTREAL) UBISOFT UBISOFT