Teenage Mutant Ninja Turtles: Mutanti a Manhattan, ecco la lista dei trofei
Li sbloccherete tutti?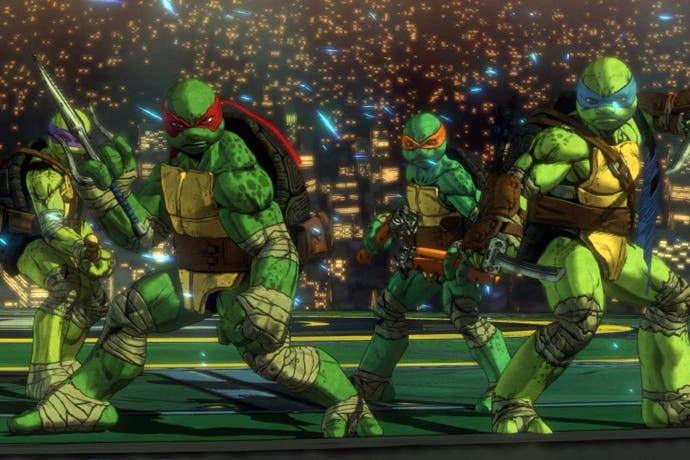 È stata recentemente resa disponibile la lista trofei di Teenage Mutant Ninja Turtles: Mutanti a Manhattan, titolo che sarà a breve disponibile per PC, PS4, PS3, Xbox 360 e Xbox One.
Il gioco vi garantirà tantissime sfide da portare a termine e numerosi collezionabili da trovare per poter sbloccare tutti i trofei della lista.
Platinum
Hero in a Half-Shell: Unlock all Trophies
Gold
Sorry not Sorry: Have everyone perform a Communication Action during the snapshots when a boss is defeated
Maniac: Obtain all Collectibles
Silver
Veteran: Complete Hard mode
Stealth Master: Complete a stage without being spotted once (outside of Missions)
Showoff: Have Mikey do his co-op move finishing pose during the snapshots when a boss is defeated
North Hampton: Traverse a total of 150 miles
Next time, take a cab: Defeat Rocksteady and Bebop by letting them get run over by a train
Hype Training: Collect 10,000 Training Points
Goin' Up!: Survive the elevator section at the TCRI building without taking any damage
Everybody Loves Explosions: Detonate 100 drum cans (including proximity mines)
Enthusiast: Obtain 50% of all Collectibles
Bodyguard: Complete a gold bar mission without the carrier being hit even once
Bronze
White Belt: Complete the Tutorial
When Turtles Fly: Traverse 1 mile in the Residential Area without touching the ground
Wear it with Pride: Equip at least one Emblem to your profile
Virtuous Vigilante: Protect 30 ATM machines
Utrom Buster: Transport 30 Krang Bombs to a portal
Turtle Power!: Use Turtle Switching to defeat 1 enemy with all 4 Turtles
Traitor in their midst: Defeat 5 enemies at once by blowing up a Foot Soldier carrying a bomb bag
Tinkerer: Dismantle Charms 30 times
The Green Way: Traverse a total of 32 miles
The End?: Complete Easy or Normal mode
Soooooaaaaap: Have all Turtles turn into zombies simultaneously by touching contaminated water
Red means Stop: Destroy a rampaging car with a drum can
Pizza Poser: Eat a pizza during the snapshots when a boss is defeated
Pie Protector: Protect 10 Pizza Trucks
Party Crasher: Defeat a Secret Boss
Out of this World: Experience all of the Krang UFOs' status effects
One Month's Dinner: Eat 100 pizzas
On Top of Things: Climb to the highest point in Karai's stage and do a little dance
No Respect for Machinery: Destroy 30 cameras and laser devices
Night Vision: Defeat 10 Stone Warriors with turrets in Wingnut's stage
Nice to meet you!: Play online at least once
Look out Below!: Destroy a helicopter
Let There be Light: Activate the ceiling switch during the battle with Slash
I Like the Green One: Use any character at least 50 times
Hit Fast, Hit Hard: Defeat 5 enemies with both Turbo Mode and Berserk activated
Hard Hitter: Defeat the 4 Krangdroids with your conventional weapons in Mega Krang's stage
Group Hug: Use a Combo Attack to defeat 6 enemies at once
Grind the Grind: Grind rails for 300 feet
Gold Rush: Transport gold bars 30 times
For a Rainy Day: Transport 30 bags of money
Explorer: Find the secret room in the TCRI building
Eavesdropper: Hang out outside of an enemy hideout for at least 10 seconds
Double K.O.: Enter the Pizza Room during the snapshots when a boss is defeated
Detoxicator: Transport 10 Chemical Weapons to a Portal
Collector: Obtain 25% of all Collectibles
BOOM!: Defeat 5 enemies with 1 drum can
Bomb Squad: Disarm 30 time bombs
637 IQ: Upgrade 30 Charm Effects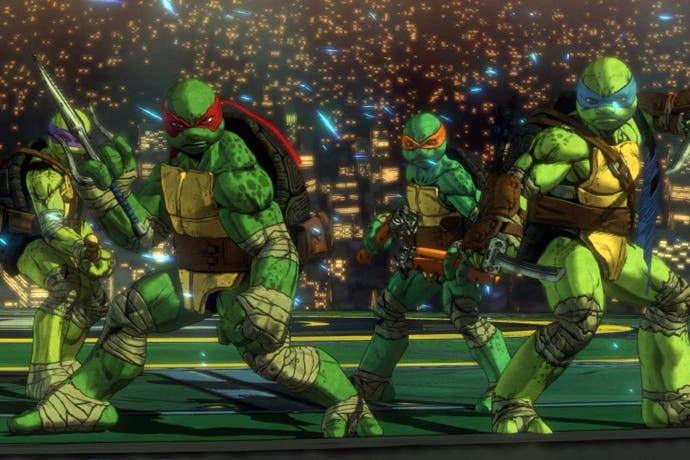 Pensate di riuscire a sbloccarli tutti?
Avete visto i trailer di presentazione dei protagonisti del gioco?
Fonte: Dualshockers